The Restaurant
For us, the fish

is the most valuable asset
REDISCOVER
THE TASTE OF THE SEA
Dietro le quinte Seafood Restaurant aims to be the benchmark for all those who love classic seafood cuisine in Mestre and in all the Venice area.
The menu features a wide variety of dishes, all made with fresh, healthy and top-quality raw materials and, above all, in full respect of the Italian and Venetian culinary tradition.
The fish, the primary ingredient of each course, is caught the same day and handled with wisdom and creativity by the chefs in order to provide you with tantalizing, tasty, refined dishes. An interweaving of flavors, that exalt the palate.
The Restaurant is located right in the center of Mestre, very easy to reach walking, by car or public transportation, just a short walk from Piazza Ferretto, next to the famous Toniolo Theater.
You can enjoy your favorite meals in the intimate and cozy indoor dining room that closely resembles a Parisian brasserie, or, on warmer days, choose to sit at the tables outside, for lunch as well as dinner, or, more informally, for an aperitif with friends.
What should you absolutely savor? You should order the risotto , raw fish (Sicilian red shrimps and tuna tartare) and, most importantly, our inimitable fried fish with shrimps and squids!
Our Venetian cicchetti are very famous all over Mestre. And if you are a wine lover, you can entrust yourself to the care of the Manager Nicola Cernison, who will be glad to recommend the best wine for the occasion and, first and foremost, for your personality.
One last thing: our primary goal is to cook seafood dishes like you've never experienced before. But we also have another goal, equally important, and that is to make you feel at home every time you are our guest!
We also promise to embrace your suggestions and to deal with your critiques (we are human, sometimes we can make mistakes), because we believe that only by listening to what the customer has to say can we improve our service.
Want to know in detail what kind of dishes and wines we have to offer?
Scroll down this page to "taste with your eyes" the image gallery of some of our dishes.
And then you can examine the four menus we have arranged: restaurant, bar and cicchetti, takeout, and wine list.
The choice is yours!
I'll be waiting for you at Dietro le quinte…
Nicola – Restaurant Manager
JUST A FEW OF THE SEAFOOD DISHES
THAT YOU CAN TASTE AT OUR RESTAURANT
In this image gallery we want to show you some of the most demanded dishes from our customers. How about our arrangements and preparations?
Because we know that in the kitchen you should also please the eye… Did you get a little hungry? Don't worry, it is totally expected!
Book your table now and visit us, you will see your hunger disappear!
Click an image to zoom on it. To view other images you can scroll with your finger (from a smartphone or tablet) or use the side arrows (from a pc). Press the "X" at the top right of the screen to return to the page.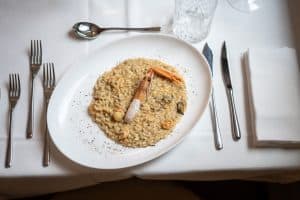 Payment methods
Mastercard
American Express
Diners Club
Services
Access and bathroom accommodations for customers with disabilities

Wi-Fi

Pet friendly

Outdoor tables
CUSTOM MENU
For kids

Menu for people with food intolerances

Take Away